Ste. Mère Église is a small town near the coast of Normandy. The town's main claim to fame is that it stood right in the middle of the route the Germans would have probably used for any significant counterattack on the troops landing on Utah and Omaha Beaches. Units from the 82nd Airborne Division had orders to secure the town. The early paratrooper landings were off target and resulted in heavy casualties. In addition, a building in town was on fire that night, and the fire lit up the sky, making the paratroopers easy targets. Some were sucked into the fire and many caught in trees and on utility poles were shot before they could cut themselves loose. One incident involved a paratrooper whose parachute caught on the spire of the town church. He could only hang there, watching what was going on below, before later being captured by a German soldier. For more details on Ste. Mère Église, click here.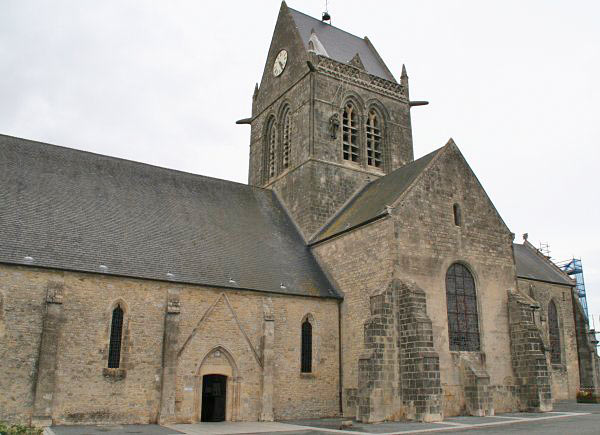 This is the famous church were paratrooper Pvt. John Steele got hung up on the steeple. If you look closely, you can see a parachute and a life-size replica of a paratrooper.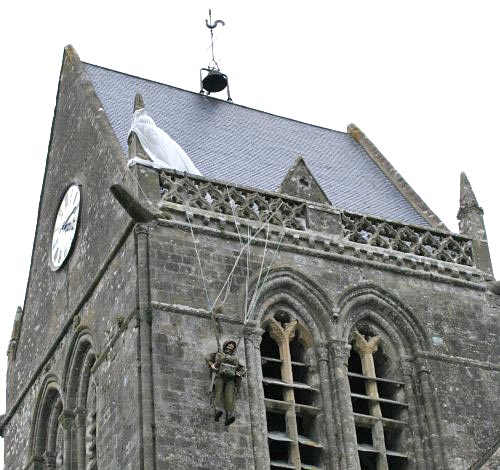 A closeup better shows the parachute and replica of a paratrooper. The people of Ste. Mère Église put this display out most times of the year to honor Pvt. Steele.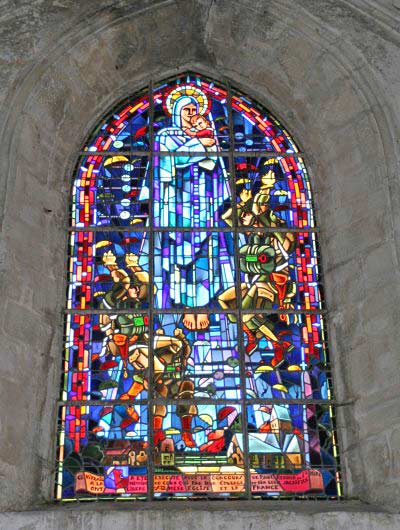 The church features this stained glass window that shows the Virgin Mary surrounded by paratroopers. Another stained glass window features St. Michael, the patron saint of the paratroopers.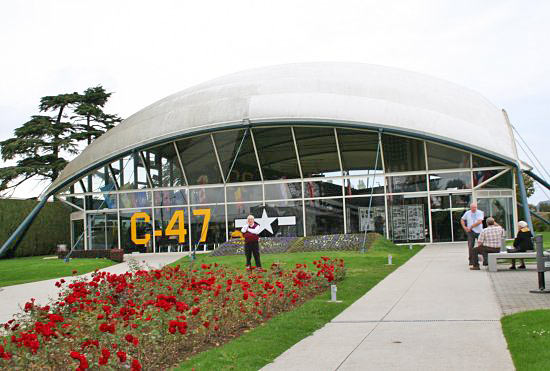 The Airborne Museum is in a park right across the street from the church. The two buildings are dome-shaped in order to look like parachutes. Inside one is a C-47 transport plane and a Waco glider. Incredible! Click here for the museum's website. It features sound and video.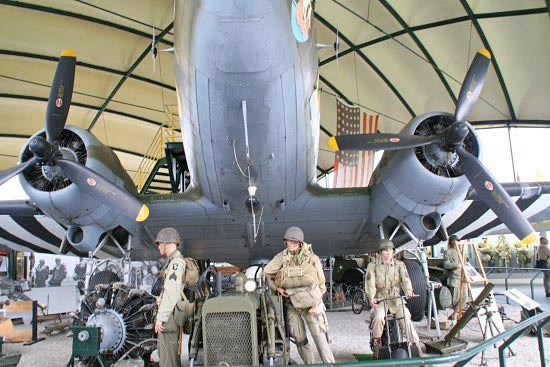 This is just one of the extraordinary displays in the Airborne Museum - a C-47 transport plane.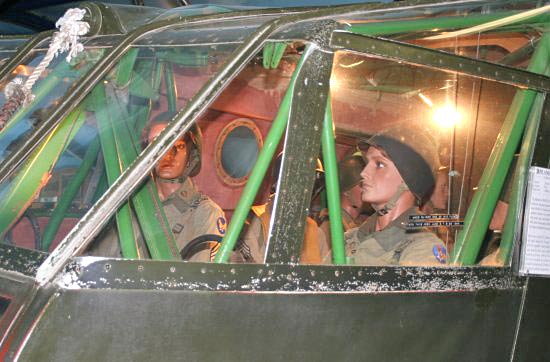 Another aircraft on display is the Waco glider, used to drop infantry soldiers behind the lines of battle. The Waco could hold 13 soldiers and, after a look at it, we decided we'd rather jump out of a perfectly good airplane - at least we'd have a parachute!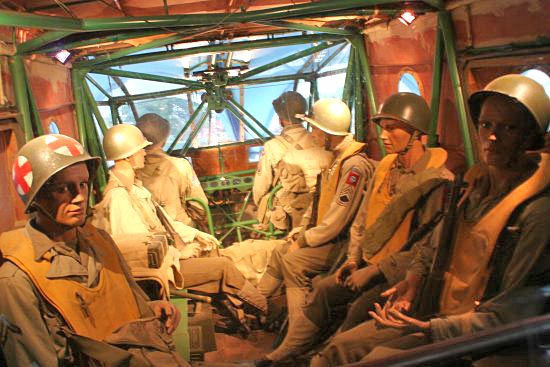 This shot looks in the Waco glider from the back. The Waco was manufactured in Ohio. The British made two gliders as well, the Horsa and the Hotspur. If you want to know more about gliders and how they were used in World War II, click here for a very interesting web site
.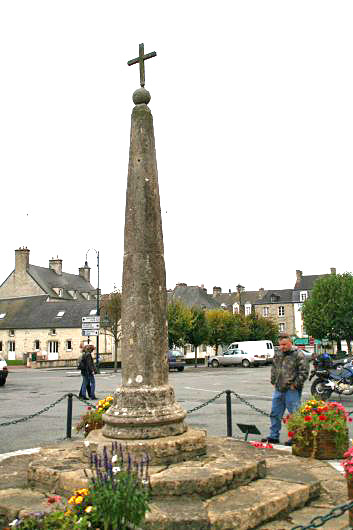 When you look at this, you are looking at an artifact two thousand years old! It is a Roman military road marker located close to the church.