There are just some photos that don't seem to belong in a single category! Here are a few such photos from Normandy as we toured the D-Day area.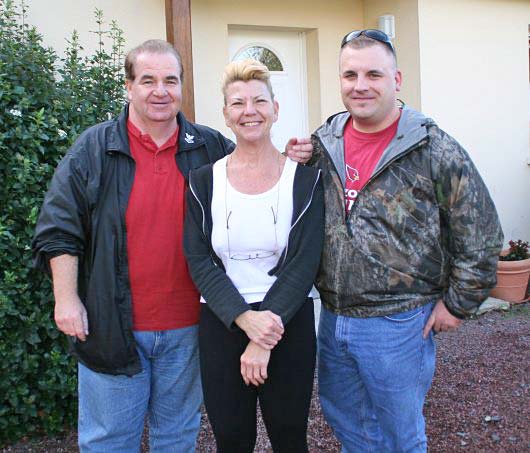 Callan poses with Ray and Cristy Pfeiffer, owners and operators of Historic Tours. Since 1983, Ray and Cristy have been conducting World War II and Cold War tours in Europe and Australia. They live in Normandy for half the year, then return to the United States for the other six months. They love working with veterans and have been instrumental in securing monuments and memorials for military units that helped free Europe. Our private tour was incredible - so much information! We highly recommend Ray and Cristy for private tours or you might even want to join one of their regular tours. Click here for more information on Historic Tours with Ray and Cristy.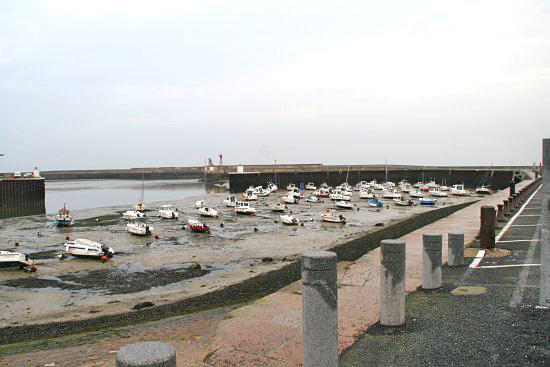 This photo was taken at low tide in Port-en-Bessin, a small fishing harbor. Now you can see why the D-Day plans called for invasion at high tide! Port-in-Bessin is located between two landing zones, Omaha Beach and Gold Beach (British).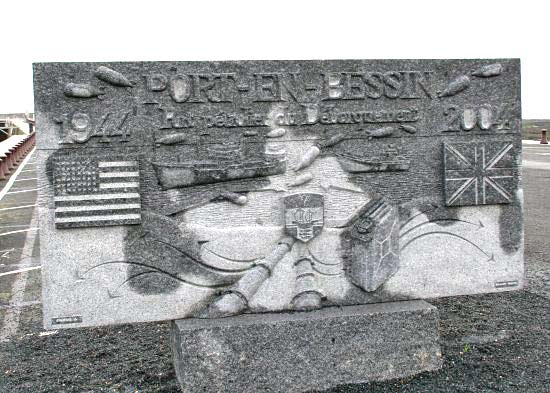 This carved stone monument points out the important part Port-en-Bessin (known then as a PLUTO port - Pipeline Under The Ocean) played in refueling Allied forces. This is where the first pipeline was built, a pipeline that moved fuel for American and British vehicles. Part of the stone is wet and dark but you can still see the flags of both countries, the pipelines, and fuel tanks. For more of Port-en-Bessin's history, click here.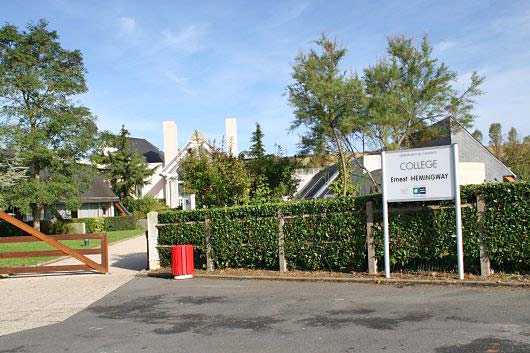 Ernest Hemingway wasn't a soldier but he went to war several times, including his stint as a correspondant covering the D-Day invasion. This college in Normandy is named after him. For an enlightening look at Hemingway's war history, click here.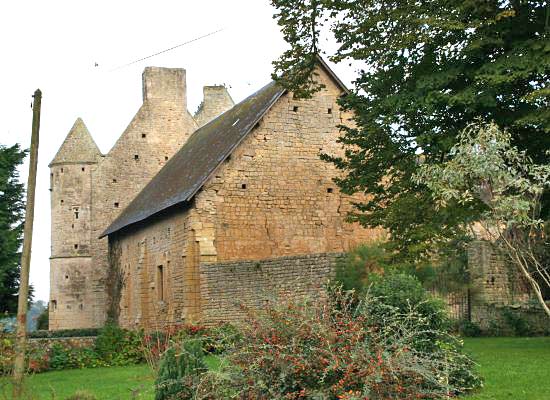 So ... is Robin Hood simply a legend or did he really exist? We usually associate the benevolent thief with England, but it's said this property in Normandy belongs to his family! Reading the lore, the connection is certainly possible. And why not? We could all use a little more romance in our lives!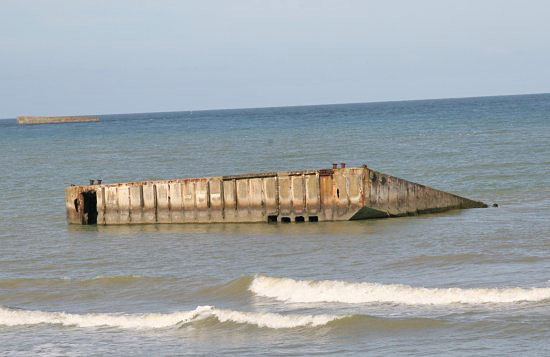 This is a remnant of Mulberry Harbour located on Gold Beach. It was used by British and Canadian invasion forces and was used to offload tons of supplies, vehicles and personnel needed to continue the battles into France. The temporary harbor built on Omaha Beach by the Americans was destroyed a couple weeks after D-Day because it was not securely anchored to the seabed. The British, however, anchored their harbour and many pieces still remain. For more information, click here.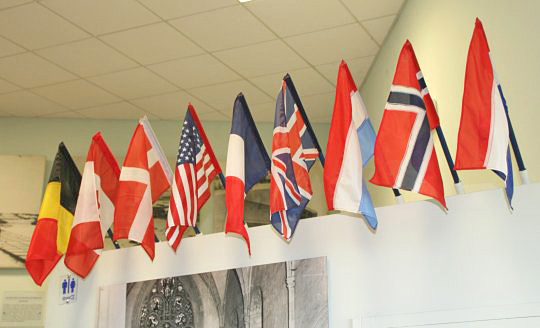 Though most of the troops involved in D-Day and the Battle of Normany were from the United States, Great Britain, and Canada, troops from other Allied nations participated, too. These flags fly in the Utah Beach Museum, honoring those nations. And speaking of flags, everywhere we went we saw American flags: schools, private homes, churches and businesses. We didn't see or experience one bit of the "anti-American" sentiment we hear about in the media. Instead, we were treated with respect by very friendly and gracious people.